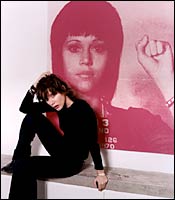 Love Sally's work and website. She's someone I want to follow in the coming months. Sally's confidence makes me want to take a class with her. She's good,very good hairdresser and she knows it. Nothing wrong with that!
Sally was interviewed on the Today Show on 6-14. When she was asked about Keritan smoothing treatments she gave them rave reviews. The potential danger is not affecting any of her clients or staff.
I agree with her but I also do all the reseach on the products I use. Keritan by Coppola is what I recommend.
I like Sally am not afraid to voice my opinion.
<>